KEEPING BANKRUPT COMPANIES IN EVIDENCE
BEV solves the mysterious phenomenon of evidence disappearing from the record after asbestos product liability defendants file for bankruptcy.
With BEV You Can
Search thousands of jobsites, products, occupations and industries from bankruptcy trusts
View an expanding collection of product photos
Edit a listing of potential trust matches and generate a hard copy report to take to deposition
Conduct real-time searches for potential exposures
Summarize and reference key plaintiff testimony
Easily access relevant Trust Distribution Procedures
Automatically calculate potential trust recoveries
Search states that have enacted trust transparency legislation
The Result
More targeted deposition questioning and a better chance of gaining plaintiff admission before trial.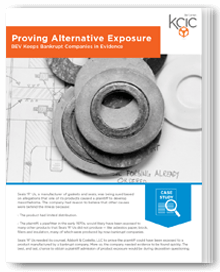 REQUEST A DEMO
See BEV in action!
The Bankruptcy Trust Search gives you the ability to search the exposure information of over 60 trusts with the click of a button.

Trust information is standardized and easy to review—reducing hours of research!

The Bankruptcy Trusts Matching Report quickly identifies potential sources of alternative exposure for a claimant — all in one customizable and printable report!