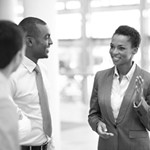 Are you surprised to learn that only 17% of equity partners in larger law firms are women, despite the fact 33% of all practicing attorneys are women? What can law firms and companies do to change those numbers?
Those and other questions were posed at "Gender Bender: Does Being a Woman in This Business Really Matter?" — a lively panel discussion on March 6 during the ABA Insurance Coverage Litigation Conference.
I applaud the ABA leadership for spotlighting this hot topic. In my 16th year attending the conference, it was a privilege to engage the panelists and audience — both women and women — in such a serious discussion.
The panel included Lorie Masters from Perkins Coie; Lacrecia Cade, General Counsel of Morehouse College; Amy Green, Executive Coach; and Ron Kammer from Hinshaw & Culbertson.
I invite you to download our joint-authored white paper on the topic.
During the panel, many opinions and insights were shared:
The sense that traditional law firms can make it difficult for women to succeed. In particular, billable hour structures can contribute to lack of transparency in compensation and promotion decisions, lack of flexibility, and lack of opportunity to practice and learn business development skills.
Panelist Amy Green said women often are on the wrong side of SCARF: Status, Certainty, Autonomy, Relatedness and Fairness. Neuroscience shows that our brains react in a defensive way when any of those things is threatened or challenged. When we aren't included, when our future path to success is uncertain, when we can't relate to leadership, and we see unfairness all around us not, it affects our performance. Ultimately, we leave for a place where we can find those things.
One way firms can prevent women from leaving is by working proactively to increase opportunities for training, mentoring and career development.
The conversation will continue this fall. The ABA is devoting an entire Section of Litigation CLE
to the topic at the:
Woman Litigators Conference
November 5-7, 2014
The Palmer House
Chicago, IL
The event will be open to both men and women. We will post more details as they become available.