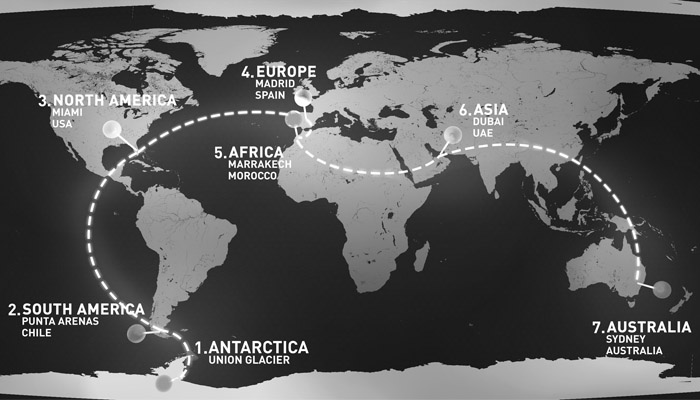 In a post last month, I announced that I have registered to race in the 2018 World Marathon Challenge, an endurance event like nothing I have attempted before: seven marathons, in seven days, on all seven continents. This year's race took place last month, so I followed it closely online to get an idea for what's ahead of me.
It's worth noting that the World Marathon Challenge is still a rather new event on the global stage. It was organized for the first time in 2015 – so last month was just the third annual race. In the first two years, approximately 12 athletes competed each year, but the field expanded significantly in 2017 to 33 runners. Another change this year involved logistics. In the first two years, participants and organizers had traveled mainly by commercial airline to the race sites around the globe. But with weather in Antarctica always the determining factor for when the race will actually begin (the Antarctica marathon is the first to take place), relying on commercial airlines was not ideal. Therefore, in 2017, participants traveled by charter plane, which will be the case again in 2018.
This year's athletes ranged very significantly in age and motivation. The winner, American Michael Wardian of Arlington, VA., didn't just win — he conquered all seven marathons with ease. His average marathon time of 2:45:56 would be notable for a single marathon (26.2 miles) — but it's nearly unfathomable for seven consecutive ones. The previous winning average time for the race had been 3:30, but Wardian crushed that, to say the least. And, after finishing his seventh marathon (in Sydney, Australia), he went on to run 17 additional miles just so he could log 200 total miles in a single week. This year's field also included American Ryan Hall, a former Olympian and holder of the U.S. marathon record. His average time of 3:39 was significantly slower that Wardian's and his time for the final marathon, in Sydney, was 5:15 — consistent with the average time for the six slowest male finishers (just over 5 hours).
While most media coverage focused on Wardian's feat, there were other inspiring stories, as well. Sinead Kane of Ireland became the first blind athlete to complete the challenge. This year's field also included the oldest competitor to date. At age 66, American Glen Avery of New York had the slowest average time among the men; regardless, it was very impressive that he completed all seven marathons. I will be 55 when I do the challenge next year. I'm hoping that my average time will be under 5 hours, but I don't expect it to be much under.
This year's athletes showed up for many different reasons, and many, like myself, were past the first flush of youth and peak ability. But they still felt inspired to take on something truly memorable. Each year, the common theme for competitors has been to raise awareness and funding for important causes. I, too, have a motivation for what I need to do over the next year; it's built on my desire to make a big difference for a cause that I believe in deeply.
More details to follow next month …