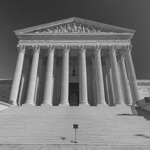 Personal jurisdiction has been a hot topic in asbestos litigation circles ever since the U.S. Supreme Court case Daimler AG vs Bauman in 2014, which essentially ruled that a defendant can only be sued in a state that is its principal place of business, or a state where it is incorporated.
This ruling caught the eye of asbestos defendants, in part because an increasing number of plaintiffs are suing defendants in states where neither the plaintiff nor defendant has any ties. In other words, the plaintiff may not live in the state, nor have been exposed to a defendant's product in the state. So the question becomes: should such a plaintiff be able to sue a company in that state?
Asbestos defendants are taking that question to the courts in hopes of getting dismissed from cases in states where they do not do business. This issue, however, has proved to be more complicated in court.  The courts seem to be taking this issue on a case-by-case basis, ruling very differently at times. An article in the National Law Review highlights two recent cases in Madison County, Illinois. Madison County is arguably the "hot bed" for asbestos cases in the U.S., with 48% of mesothelioma filings and 25% of all asbestos litigation filings in 2015, according to KCIC's analysis of at least 90% of the total asbestos filings in the U.S. (and likely more).
In the first case, the plaintiff at least lived in Illinois, but since he could neither prove exposure in Illinois, nor prove the defendant did a substantial amount of business in Illinois, the court sided with the defendant. In the second case, the plaintiff did not even live in Illinois. He also could not claim exposure in Illinois. It would appear those two facts would negate personal jurisdiction, but the defendant sold products in Illinois and submitted briefs in other cases that seemed to argue that the defendant did have a substantial presence in Illinois. Therefore, the court found the defendant had a "home" in Illinois and thus can be sued in Illinois, despite the plaintiff's state of residence or place of alleged exposure.
The decisions show that issues of personal jurisdiction are not always clear. As more defendants fight this issue, it will be interesting to see what, if any, precedents the courts point to in their rulings.