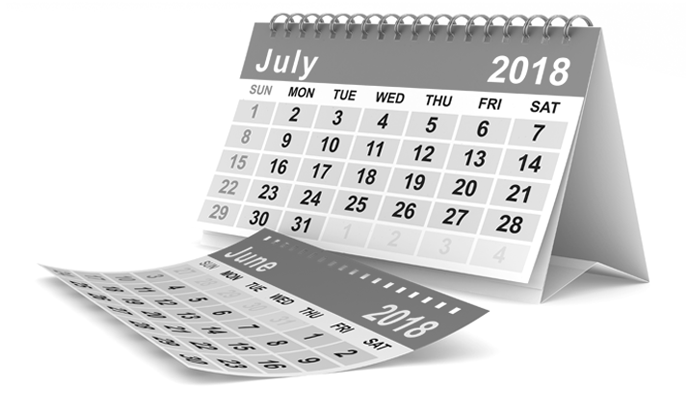 KCIC Consultant Ellin O'Brien also contributed to this post.
In advance of the release of our 2018 year in review asbestos litigation report, due out next spring, we'd like to briefly discuss how filing trends are shaping up thus far for 2018. Our 2017 report highlighted an 8% decrease in overall nationwide filings compared to 2016. In this blog post, we pick up where the 2017 report left off and provide a summary of asbestos filings through June 30 (received as of July 31, 2018), for a midyear update.
Filings Overview
Asbestos filings at midyear are down about 14% compared to this time last year. In 2017 we received 2,252 lawsuits by this time, whereas our 2018 count is 1,941.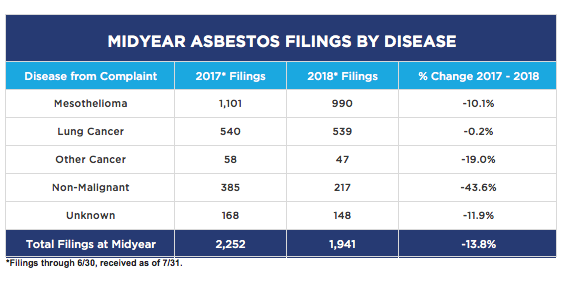 To date, we see the greatest decrease in non-malignant filings, which are down 43.6% from this time last year. That is mostly due to decreases in non-malignant filings in Baltimore City, Md. (-55.6%) and Wayne, Mich. (-58.5%), two of the most prominent jurisdictions for these claims. 
Most significantly, mesothelioma filings, the largest economic driver of this litigation, are currently down 10.1% from this point last year. We see decreases in mesothelioma filings in Madison County, Ill., Philadelphia, Pa., and St. Louis, Mo., with both Gori Julian and Cooney & Conway showing fewer mesothelioma filings than they did at this point last year.
Midyear Trends by Plaintiff Firm
To better understand and identify filing trends in our data, we looked at filings for the most active plaintiff firms. The chart below looks at claims filed by the 10 most active firms thus far in 2018 and compares their filing counts with data from the same time frame in 2017.
Several firms have noticeably ramped up their activity. Belluck & Fox, LLP filings are 53% higher than they were at this time last year, and Goldberg Persky & White and Flint Law Firm, LLC have also increased their filings compared to this time last year with 21% and 19% increases, respectively. However, significant decreases in filings from firms like Law Offices of Peter G. Angelos (-37%) and Cooney & Conway (-21%) are more emblematic of the downward trend we are seeing. We also see there has been a 30% drop in filings from the "All Other Firms" (outside of the top 10). This decrease, while contributing to the overall decrease in filings projected for 2018, also is effectively increasing the concentration of filings among the top 10 most active plaintiff firms. In last year's midyear data, the top 10 firms were responsible for 63% of lawsuits filed. That concentration is more pronounced in the first six months of this year, where the top plaintiff counsel filers account for almost 69% of filings.
Midyear Trends by Jurisdiction
The jurisdictions dominating asbestos litigation remain consistent, but we note some interesting fluctuations in our data comparison between midyear 2017 and 2018. We first looked first at Madison County, Ill. — consistently the jurisdiction with the highest number of annual asbestos filings. Madison County's overall filings are down 9.8% compared with this point last year, and mesothelioma filings in this jurisdiction are down almost 12% so far. In contrast, neighboring St. Clair County, Ill. more than doubled its midyear 2017 filings (one of the few jurisdictions that has seen an increase in filings thus far in 2018), in continuation of the upward filing trend we saw in this jurisdiction last year. Of the top 10 jurisdictions, St. Louis, Mo. and Baltimore City, Md. saw the largest decreases in filings(46.6% and 38.9% respectively.) These decreases correlate with the decreases we are seeing by disease and by plaintiff firm across the board.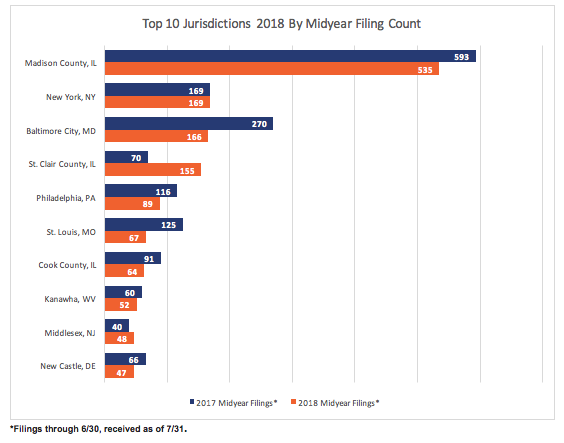 Conclusion
Overall, we continue to see a downward trend in asbestos filings so far in 2018. At this point, the largest decrease is with non-malignant claims, but mesothelioma claims are also decreasing more significantly than they have in the past. We will continue to monitor these filing trends, as well as the effects on filings of other issues affecting this litigation, and we look forward to publishing our findings in our 2018 Asbestos Litigation Report.