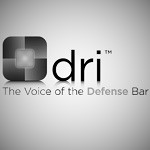 I had the pleasure of attending the DRI Asbestos Medicine Conference last week in New Orleans with five of my colleagues.
Things actually kicked off with a half-day Perrin Conference summit on Wednesday. I was on the first panel of that event, where I presented some of KCIC's asbestos litigation complaint statistics through the third quarter of 2016. That included introducing some statistics around "Forum Shopping" or "Tourist Filing", in which lawsuits are filed in states where the plaintiff does not reside.
That evening, the DRI conference got underway with a conference cocktail party, and a whirlwind two days followed, until the conference adjourned on Friday afternoon. KCIC attends this conference not only to stay on top of current issues around asbestos litigation, but we also see the conference as an amazing opportunity to spend time with current clients or meet new people we would like to work with in the future. On Thursday morning, we attended the Women's Breakfast. With over 100 women in attendance, it was a great networking event. Then on Friday, KCIC sponsored the conference breakfast, which gave us an additional time to mingle and talk to attendees about some of the challenges they're facing.
By far the biggest highlight of the conference was KCIC's launch of BEV, our new Ligado product. BEV is a bankruptcy evidence verification tool that we created to help keep bankrupt companies in evidence. We know this is an industry concern, and there were several sessions at DRI that addressed the issue of bankruptcy trusts and their role in the asbestos litigation. Therefore, the rollout of BEV is very timely. We were able to show many demos of BEV's capabilities, and we created a great deal of buzz about having the ability to quickly see if a product from a bankrupt company may have been a source of exposure for a plaintiff.
All in all, this year's DRI conference was one of the best we've attended. We learned a lot from the content, created new relationships that we hope will continue to grow, and we introduced a product geared to help defendants gather necessary evidence to assist in the successful defense of their cases.